Emerald 65 Powdered Green Vinyl Gloves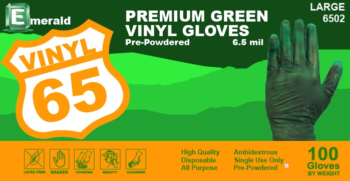 Emerald Green Vinyl is an extra strong 6.5 mil glove used for all general purpose, industrial, and hardware needs where a thicker glove is required. Designed for extended wear and use, non latex formula make this glove ideal for those who may be allergic to latex. Manufactured to meet exacting user specifications just like all of our Shannon  vinyl gloves. Powdered for easy donning. Packaging: 100 gloves per dispenser box 10 boxes per case.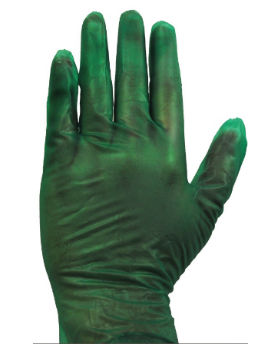 | Product Code | Description |
| --- | --- |
| VN6500 | Small |
| VN6501 | Medium |
| VN6502 | Large |
| VN6503 | X-Large |

Federal Food, Drug, and Cosmetic Act (FD&C Act)

The FD&C Act are laws passed by Congress giving authority to the U.S. Food and Drug Administration (FDA) to oversee the safety of food, drugs, and cosmetics. All Emerald Professional glove components are in compliance with provisions of the FD&C Act, which allow repeated use in direct contact with food.
Call About Our Container and Private Label Programs!