Emerald | Your Partner for Branding and Bulk
Emerald Professional Protection Products is the perfect source for your container and private-labeling needs. Working with our reputable and quality-driven partners overseas, we will produce disposable gloves and safety products to your exact specifications and package them under your own brand and artwork.
Getting Started with Emerald Private Labeling
– We require a 20 foot container minimum order per glove style. i.e. "Latex GP Powder-Free". Plate charges may apply.
– Private label disposable gloves are quoted in 20 or 40 foot container quantities. A 20 foot container is approximately 1500 cases (latex) to 1900 cases (vinyl). A 40 foot container is double those quantities. For private labeling, a 40 foot container is highly recommended, and allows for the maximum price break.
– Latex and nitrile can be combined in one shipment, vinyl cannot be combined with latex or nitrile.
– Standard turn-around time on private label orders is 90 days after approval of artwork.
– A 25% non-refundable deposit must be paid upfront. The balance is due within a week of gloves reaching the port. Based on the allowable credit limit, we may be able to extend the balance due to one week past delivery.
– Designing your own artwork is recommended, and Emerald will provide templates. Artwork designed by Emerald is available for an additional fee.
– Due to warehousing limitations and transit costs, we are unable to store a customer's private label order in our warehouse. It is requested the customer receive their order in full.
Container Orders
Alternatively, all of our trusted Emerald brand catalog items are available in factory direct container shipments to your warehouse or end-user location. Our container programs offer you the absolute best price based on the current cost of raw material overseas. There is no better deal!
Please call or email today for more information or a price quotation on our private label and container programs!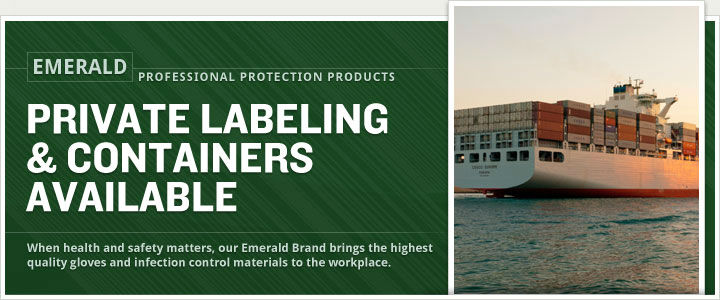 Call About Our Container and Private Label Programs!