News
Glove News
July 2019
As everyone is no doubt aware by now, the US administration has imposed an additional 10% 25% tariff on a wide range of disposable products from China. Medical products, including gloves, are excluded, but all shoe covers, bouffant caps, hairnets, sleeves, coveralls, and industrial latex and nitrile gloves are subject to the new tariffs. We have migrated as many items as possible to sourcing from other countries in order to mitigate the effects to our customers. The softening of the Chinese yuan versus the dollar has partially offset the increased costs associated with the tariffs. We will continue to keep you informed as the situation remains very fluid.
Freight costs eased earlier this year as demand was lower due to many importers stocking up prior to the imposition of the new tariffs. They have now rebounded to the middle range of 2018.
Shipping Rates – Baltic Dry Index
NITRILE
Prices have retreated from their all-time highs this past summer, but are still up 15% year-over-year. Although disposable nitrile gloves are exempt, tariffs on industrial nitrile gloves, both supported and non-supported, will keep upward pressure on those prices even as the disposable glove market has stabilised.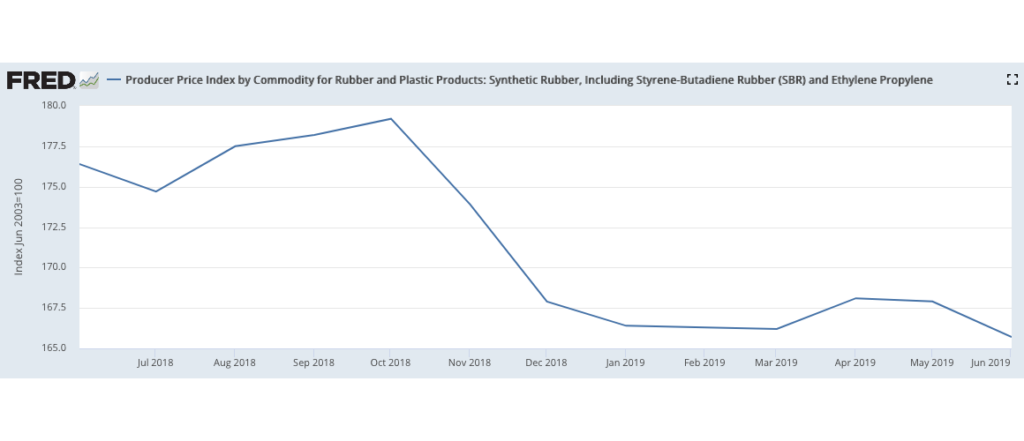 LATEX
Prices have exceeded their highs of earlier last year rising past $1.52 per kilogram recently. Indonesia, Thailand and Malaysia have restricted supply to the world markets following the low prices of late 2018. We are now anticipating still higher prices this quarter.
VINYL
We ordered vinyl gloves heavily last summer in preparation for the coming tariffs, but at the last minute the administration decided to exclude them. As a consequence, we are well-stocked and offering good deals for volume purchases. We see prices holding steady with some manufacturers exiting this space due to low margins.
Understanding Prop 65
Proposition 65 is a law requiring businesses to notify Californian residents regarding certain chemicals found in consumer goods. The law's intent is to aid Californians in making informed decisions due to possible safety concerns over exposure to these chemicals.
In 2013, the California Office of Environmental Health Hazard Assessment added Diisononyl phthalate (DINP) to their list of chemicals regulated under Proposition 65. While several governmental regulatory organizations, including the Consumer Product Safety Commission and the European Chemicals Agency, have determined DINP poses no threat to health at typical exposure levels; manufacturers selling products containing DINP in California are required to either remove the DINP component or add a warning label by December 20th, 2014.
This requirement impacts disposable glove manufacturers and distributors, as DINP is a plasticizer frequently used in the production of vinyl gloves. As of December 20th 2014, Emerald Professional Protection Products ceased use of DINP is favor of Dioctyl Terephthalate (DOTP), a plasticizer that is fully compliant with California Proposition 65. Emerald Professional Protection Products is fully committed to quality and safety, and is proud to be your leading supplier of disposable gloves.
FDA Bans Powdered Exam Gloves
The Food and Drug Administration (FDA or Agency) has determined that Powdered Surgeon's Gloves, Powdered Patient Examination Gloves, and Absorbable Powder for Lubricating a Surgeon's Glove present an unreasonable and substantial risk of illness or injury and that the risk cannot be corrected or eliminated by labeling or a change in labeling. Consequently, FDA has banned these devices.
This ban does not affect powdered gloves used in food service and jan-san applications. Visit https://www.federalregister.gov/documents/2016/12/19/2016-30382/banned-devices-powdered-surgeons-gloves-powdered-patient-examination-gloves-and-absorbable-powder for further details.
Call About Our Container and Private Label Programs!