Syntheticare Powder-Free Vinyl Exam Gloves – 5 Mil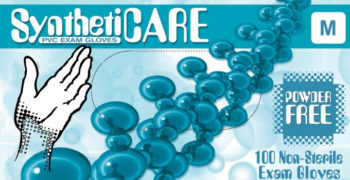 Syntheticare powder-free vinyl exam gloves are ideal for any type of medical or general use. The non-latex formula makes these gloves ideal for those who may be allergic to latex. Manufactured to ASTM and FDA standards as a medical device, these soft vinyl gloves are comfortable and have beaded cuff for extra strength and tear resistance. 100 gloves per dispenser box, 10 boxes per case.
| Product Code | Description |
| --- | --- |
| PVE5601 | Small |
| PVE5602 | Medium |
| PVE5603 | Large |
| PVE5604 | X-Large |
Federal Food, Drug, and Cosmetic Act (FD&C Act)

All Emerald disposable examination gloves meet FDA 510(k) standards as Class 1 Medical Devices. In addition, their components are in compliance with the Federal Food, Drug and Cosmetics Act provisions which allow their repeated use in direct contact with food.
Call About Our Container and Private Label Programs!